I don't know at what point I moved beyond the simple arrogance of "I am writing a novel" to "I am writing a trilogy" but I did. I don't know how I made the leap, but people should understand, it is not the arrogance of "I am writing a trilogy because I am such a stud," it's the insecurity of "I don't know if I have it in me to write a trilogy, let's start writing one, and not query or move on it until it is done." I've taken another step towards that goal, because on Sunday, August 16th, I finished book II! I am so stoked.
It's a tempered, happiness (really - please, I don't need all the Absolute Writers who saw me cavorting in every thread, scampering like a drunk in Vegas, laughing and drowning out my seriousness, here!) I know I have serious work to do. The first book doesn't stand alone, or have an excellent summed-up stopping point. It just sorta flops around and runs out of breath. I'm already thinking about tweaking, and I know I have the mother of all rewrites coming. However, who said the unwritten page can't be edited? Well, I have 1002 pages to edit. Yay me! (that's two books of pages... I did not write one book that's a 1000 pages... just for to clarify!)
In celebration: I give you pictures of my Cricket. I loves mah kitteh...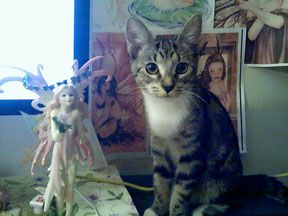 "I'm cuter than Faireh! See?"
"Mama, what you do with my ears?"
"Sure, take undignified picture of me. Just cuz I don't have thumbs. I seen you naked. And I have claws."
"Sure, stack books. Rest of your crap in piles. Have you changed the litterbox yet? Get to it. I don't have all day. I have sleeping to do, and later, I gotta scratch up the screens."
shhhh..... the beast... it slumbers...